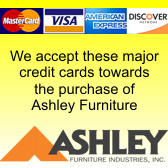 Everyone at Atkinson Homes wants to meet all of your new home's needs — and that includes furniture. We carry a wide selection of high-quality Ashley Furniture and decorative items to make your new home the perfect house to live in, relax in, entertain in — the perfect place for a family to feel at home.
Our furnished model homes are full of Ashley Furniture — and if you don't know exactly what you want, talk to our experienced staff and they can help you pick out the items that meet your needs and make your new home look like the show piece you want it to.
Just browse the Ashley Furniture online catalog and let us know what you are interested in.
We accept most major credit cards towards the purchase of any furniture sold through Atkinson Homes.